Congratulations!
According to your quiz results, you are seeking Clarity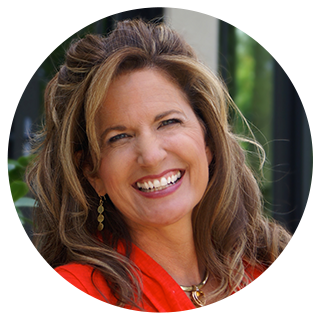 Hi! My name is Kaliana and I've been blending with essential oils and flower essences since 1976. I want to thank you for taking the time to answer those questions. Your responses help me determine which blend is best for addressing your specific emotions.
Below you will find a chart comparing 5 formulas recommended for you. The first formula is one of mine and the others are from companies you may know and love ☺ If you continue reading you will find more information about the impact of scent on emotions, and a special offer from us. I look forward to getting to know you better!
Hugs,
Kaliana
Here is a comparison of some blends to support you
Scroll over to see chart

Year Founded
Est. 1995
Est. 2008
Est. 1979
Est. 2011
Est. 1993
Formula Name

Clarity

Breathe

Refreshing Peppermint

Clarity

Clarity

Quantity of Premium Essential Oils
( ) in Blend
Moderate Component
None
None
None
None

Essential Oils in blend and cost per 5ml

E.O ingredients are listed by quantity, from highest at the top to lowest

| | |
| --- | --- |
| Eucalyptus | $6 |
| Benzoin | $10 |
| Cajeput | $8 |
| Lemongrass | $7 |
| Wild Lavender | $13 |
| Melissa | $180 |
| Vanilla Absolute | $216 |
| Rose Absolute | $45 |
| Vetiver | $32 |
| Geranium | $17 |

| | |
| --- | --- |
| Laurel Leaf | $9 |
| Eucalyptus Leaf | $6 |
| Peppermint Plant | $4 |
| Melaleuca Leaf | $7 |
| Lemon peel | $5 |
| Cardamom Seed | $15 |
| Ravintsara Leaf | $5 |
| Ravensara Leaf | $8 |
| | |
| | |

| | |
| --- | --- |
| Peppermint | $4 |
| Sweet Orange | $3 |
| Spearmint | $6 |
| Ylang Ylang | $18 |
| | |
| | |
| | |
| | |
| | |
| | |

| | |
| --- | --- |
| Bergamot | $15 |
| Basil Linalool | $11 |
| Lemon | $5 |
| Grapefruit | $10 |
| | |
| | |
| | |
| | |
| | |
| | |

| | |
| --- | --- |
| Basil | $11 |
| Cardamom | $15 |
| Rosemary | $7 |
| Peppermint | $4 |
| | |
| | |
| | |
| | |
| | |
| | |

Therapeutic Grade
This term is not used
with Plant Theraphy
Succussed

133 times
Flower Essences

157 for clear thinking
Vibraceutical™ Formulas
Biocatalyst Activation
Hand Made
Small Batches
Emotional Support

All products target specific emotions
150 Step Process
Aged

Mothers aged a min of 23 years
*Chart based on supplier's website(s) at time & subject to change without notice.
Can a scent actually help with making decisions, worry, and mental fatigue?
Step back for a second and think of how often you are reminded of a childhood memory by something as simple as your mother's perfume, or perhaps recall your grandmother when the aroma of chocolate chip cookies wafts through the air?
Scent has the most rapid and noticeable effect on the part of the brain that uplifts feelings, stores memories, impacts emotions and your ability to concentrate (i.e. brain fog).
Have you ever noticed how much better you feel after a walk in nature? Research shows how 'forest bathing' (simply being in nature and 'bathing' in all the senses) reduces stress, increases energy, lowers blood pressure, boosts the immune system, increases ability to focus, improves mood, and so much more.
The incredible benefits from forest bathing are in large part due to inhaling terpenes, which are found in essential oils. Research found when humans inhale these, it enhances human natural killer (NK) cell activity which can boost the immune system and  kill tumor cells.
But since there are over 50,000 terpenes in nature, it is important to use blends of essential oils versus just a single scent to gain greater emotional and health benefits.
Imagine what it would be like to move through your day with the power to improve your clear thinking, worry, or mental fatigue whenever you need to—the right combination of essential oils can make that possible.
In reviewing the chart of essential oils above, Kaliana Calm stands out from the rest, due to the many extra layers of support it offers.
In reviewing the chart of essential oils above, Kaliana Clarity stands out from the rest, due to the many extra layers of support it offers.
Clarity comes in several forms and a great place to start is with the mist because it's portable, fun, and works quickly.
Clarity Fix-Me™ Mist is hand-blended essential oils, vibra-nutrients™ and flower essences that help boost your brain's ability to power through your day. Do you ever need that 3pm pick-me-up? It works like a portable diffuser, so you can spray it on or around yourself to instantly feel better, anywhere you go.
For over 43 years, Kaliana has been studying aromatherapy and other natural options that make a difference in how you feel.
Since 1995 she has helped thousands of individuals and families gain control over their emotions to make each day better.
Here is a one-time offer to try Kaliana mist for the price you'd spend at Starbucks
Are there days when you wish life wasn't so complicated and hard?
Kaliana Clarity stands out from the rest because it creates a tangible shift in how you feel. If you pay attention, you'll notice your body and mind begin to relax in about 30 seconds after spraying.
Plus, Kaliana sprays are made to be repeated so you can use it several times, back-to-back to customize and increase the level of support you need in that moment.
What Can Clarity Do For You?
Promote: intelligence, creativity, problem-solving*
Release: worry, tension, mental fatigue*
PURE & NATURAL INGREDIENTS HAND-BLENDED FOR YOUR EMOTIONAL NEEDS.
Clarity Fix-Me™ Mist ingredients have been hand-selected to promote clear thinking and problem solving, while stabilizing your emotions and nervous system. Clarity Vibraceutical™ 157 plus 10 key essential oils have been blended to work in conjunction with one another for greatest emotional benefit—including eucalyptus, lemongrass, vanilla absolute, and rose absolute.
Try Clarity Fix-Me™ Mist Mist today for only $7 and see how easy it is to make your day better!
Try it risk free: If you are unsatisfied with this product for any reason, return it for a 100% refund.
P.S. Clarity Fix-Me™ Mist, developed over 23 years ago by Phyto-Aromatologist Kaliana, has helped individuals across the globe with their worry, mental fatigue, and problem-solving. Act now to get this one-time special offer! Risk free with our 100% money back guarantee.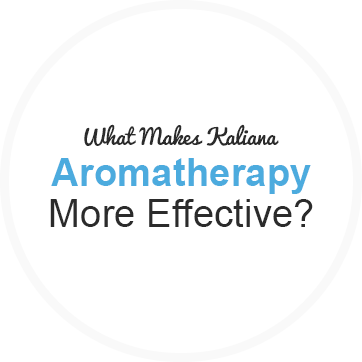 Hand-Crafted using our 150-step process

Essential Oils premium quality selected for greatest results

Flower Essences nutrients to uplift emotions

Synergy our natural catalyst brings the essences together

Activated each batch is succussed 133 times
Aged mother formulas are aged 23 years
Try our Vibraceutical™ formulas.. naturally change the way you feel in 30 seconds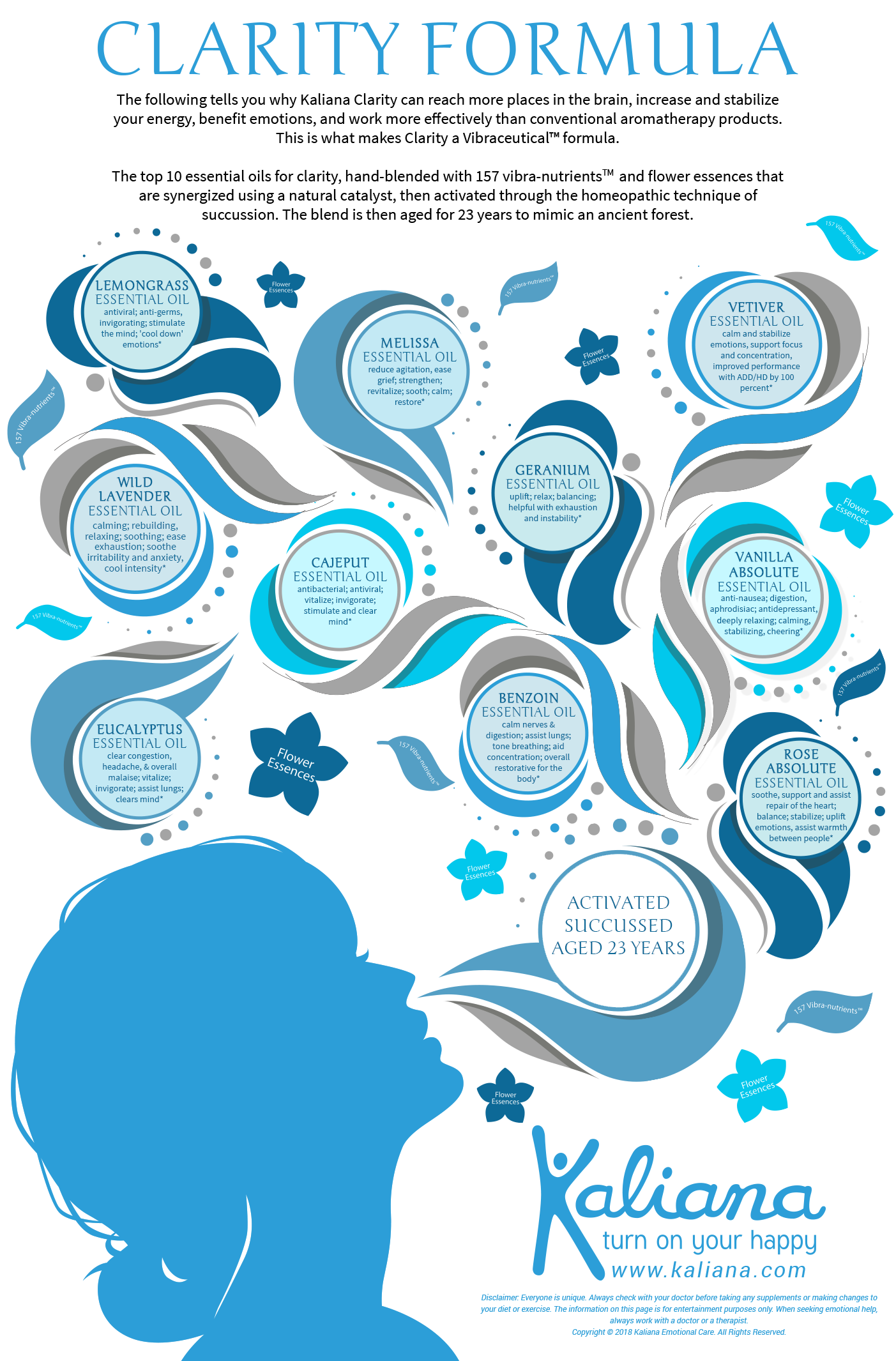 What People Are
Saying About Us
"I bought the Clarity Formula to help with my stress. After a few days, I found myself trying all these new things at work and realized your product was helping me be more creative. I mean, it really is amazing. I just thought it smelled really good."

- DeAnn R.
"Since I've started using this product a few weeks ago, my stress and anxiety levels have been more manageable. I can handle the daily ups and downs without having a mental breakdown. Instead of turning to my anti-anxiety medicine, I use my Kaliana Clarity and feel better very quickly. I am so thankful to have this product!!"

- Jenn M.
"I am someone who walks around carrying my stress and tension in my shoulders. I have been a customer of Kaliana for years and love her products. When I saw the line of oils that I can use to 'lighten my load' so to speak, I was ecstatic. I have applied Clarity to myself and have had it used on me during massages. It definitely helps with the stress and tension. Thank you Kaliana for making such wonderful products."

- Lori G.
"My 8-year old son had an amazing experience with Clarity when he had a severe headache recently…he was so miserable that he was lying in bed whimpering. I sprayed Clarity on a cold, damp washcloth and rubbed his whole head with upward strokes. Within just a few seconds of doing this, he took a deep breath and said Mommy, I feel so much better. I repeated this process with a freshly sprayed washcloth and that was the end of his headache. I was astounded to see such instantaneous results!"

- Beth L.
"After using several products together for a few weeks, I am noticing a new calmness in stressful situations and how much nicer I am being to myself. These products really are helping me help myself. They are amazing!"

- D. Fitzpatrick
"I can't believe the way my life has changed. I am very pessimistic and didn't think it would make any difference. It's almost too good to be true. I've become more tolerant and sympathetic of others."

- Stephany P.