Kale and Quinoa Salad
Oct 07, 2016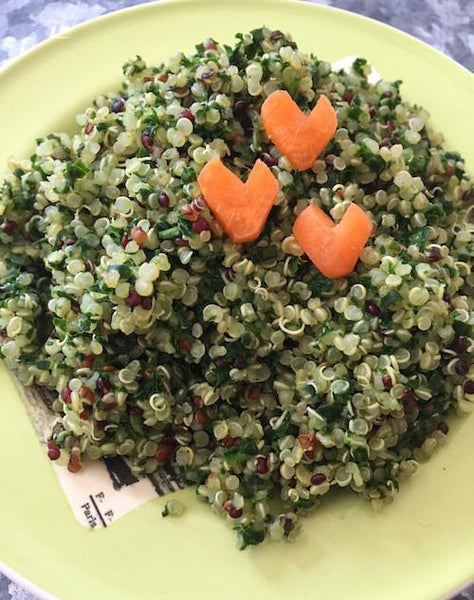 This is one of my favorite recipes because it's easy, delicious and packed with nutrients! I use the tricolor blend of quinoa to get as much variety as possible, and also pink salt because it has 84 minerals/trace elements.
Servings: 4-6
Ingredients to support
Recovery
:
3 cups uncooked quinoa, rinsed
2-3 cups kale, finely chopped (1 large bunch curly kale)
2 lemons, juiced
3 cloves garlic, pressed
1 tablespoon EVOO
1 1/2 teaspoons cumin
1 teaspoon salt (pink salt is one of the highest mineral salts!)
1-3 squirts Recovery Beverage Booster
Directions:
Use either a rice cooker or stovetop to cook quinoa. In a rice cooker, add 6 cups water to 3 cups quinoa, stir, cover, and once cooker turns off, it is done. On stove, place 3 cups quinoa and 6 cups water in a saucepan and bring to a boil. Reduce to simmer, cover and cook until all water is absorbed; about 15 minutes.
While quinoa is cooking, wash and remove stems from kale (I simply pull the stem apart from the leaves), then finely chop in a food processor or by hand. Juice the lemons.
Once quinoa is cooked, move it into a large bowl and add cumin, salt, garlic, lemon juice, EVOO, and Beverage Booster. Add kale last. Then stir it all well.
Serve immediately, or great served cold! Also works well as an easy grab-n-go for lunches or quick snacks.