Pomegranate Sunflower Açaí Bowl
Oct 02, 2016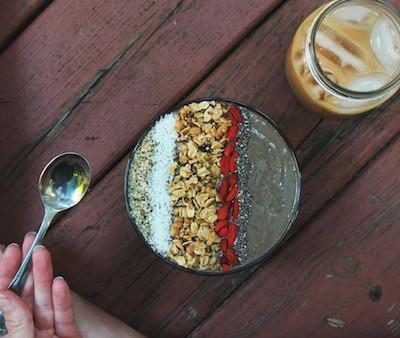 I love starting my morning with a nutrient dense smoothie bowl or açaí bowl. They leave me feeling good about my body and incredibly energized (plus if I eat something unhealthy later in the day I don't feel as bad). The main difference between the two is that the latter is made with açai, a tasty superfood full of antioxidants, fiber, and healthy fats. I recommend buying the frozen
Sambazon
 açaí packs, which you can purchase in health food stores or online. These are incredibly versatile. To sweeten, add honey, maple syrup, or pitted dates. Add a few ice cubes or chopped up frozen banana to make it even more like a frozen dessert. Then top with whatever your heart desires!!
I topped this with:
hemp seeds (healthy fats, high fiber, complete protein)
unsweetened coconut flakes (some iron, mostly tasty)
granola
goji berries (high in vitamin C & iron)
chia seeds (high in omega-3s, fiber, protein)
Servings: 1 or 2
Ingredients to support
Joy
:
1 frozen açaí pack
3/4 cup frozen pomegranate seeds
1/4 cup frozen blueberries
1 banana
1 cup spinach
1/4 cup cashew milk
2 tablespoons sunflower butter
1-2 squirts Joy Beverage Booster
Optional: 1 tablespoon wheat germ, ground
Optional: 1 tablespoon flaxseed, ground
Directions:
Run frozen açaí pack under warm water for 10 seconds. Add to high powered blender along with the pomegranate seeds, blueberries, banana, spinach, and cashew milk. Blend until smooth. Add remaining ingredients and blend until smooth.
Pour into bowl and add toppings.