Tangy Italian Risotto Stuffed Peppers
Dec 05, 2016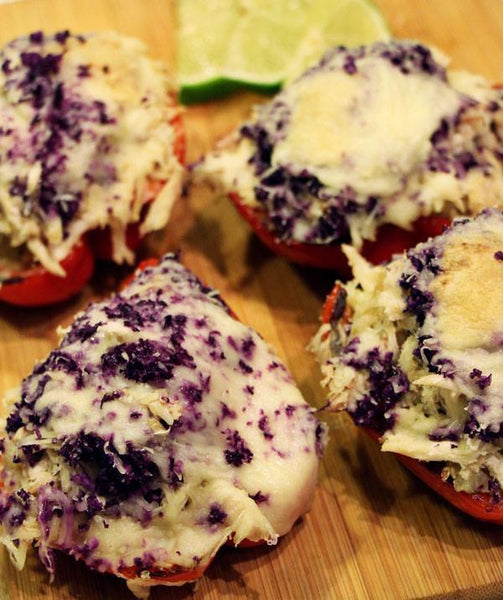 Ahhhh....red bell peppers. They have always been a favorite of mine, with their crisp, sweet flavor that refreshes the mouth and fills the body with vital nutrients. What isn't to love about these plump, beautifully colored, crunchy peps?
This was one of the first recipes I ever created, and my love for it has only grown. The sweet crunch of the red pepper, followed by the savory taste of risotto and chicken, topped with melted, mouthwatering mozzarella is only made better by the delightful tanginess of fresh-squeezed lime. It is incredibly easy to make, whether it be for a couple people or a large group. I hope you love it as much as me :)
Note
: the ingredients listed as organic I strongly believe should be purchased as such, but if that isn't an option, don't let it stop you from making the recipe.
Servings: 4 as main dish, 8 as side dish
Ingredients:
1 5.75-ounce box Italian risotto
1.5 tablespoons organic canola oil, divided
2.5 cups water
2-3 squirts preferred Beverage Booster
4 organic red peppers, halved lengthwise, seeds and ribs removed
1/2 rotisserie chicken, shredded
2 cups shredded purple cabbage
1 bag organic shredded mozzarella
1 large organic lime, halved
Directions:
Begin cooking risotto by sautéing rice in 1/2 tablespoon oil in saucepan over medium heat for 2 minutes. Add water, Beverage Booster, and contents of seasoning pouch, stir well and bring to a boil. Reduce heat to a simmer and cook uncovered for 20 minutes or until rice is tender and water is absorbed. Stir occasionally.
While risotto is cooking, heat 1 tablespoon oil over medium-high heat in medium size pan. Add peppers to pan and soften by cooking 4 minutes on each side.
Line baking tray with parchment paper. Move peppers from pan to baking tray, cut side up. Evenly distribute the risotto onto each pepper. Top risotto with shredded chicken, purple cabbage, and cheese.
Broil stuffed peppers on high in the oven for 10 min or until the cheese is completely melted.
Remove from oven and squeeze lime juice on top of peppers. Serve hot.