Buttery Baked Bismarck Pancake
Nov 08, 2016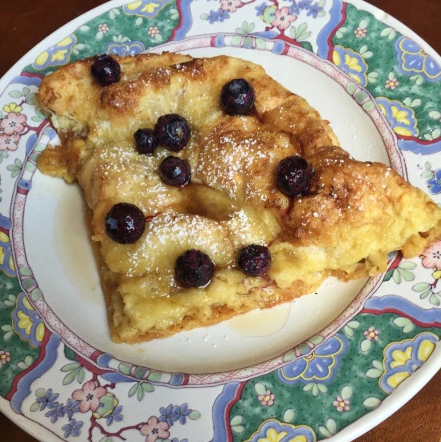 This deliciousness was one of my dad's favorite recipes to fix for us. It is super simple and quicker to whip up than pancakes or waffles! I would not put this in the "healthy" category, but I would put it in the "happy." It is great topped with fruit and maple syrup. I hope you love it as much as I do!!
Servings: 2-3
Ingredients:
8 tablespoons (1 stick) butter
2 eggs
1/2 cup all-purpose flour
1/2 cup vanilla almond milk (in this I prefer flavor over cow's milk)
1-2 squirt preferred Beverage Booster
Note: If you double the recipe, still only use 1 stick of butter.
Directions:
Preheat oven to 475ºF. Put butter in cast iron skillet and place in oven.
Mix together milk, flour, eggs, and Beverage Booster.
Once butter has melted, add batter to pan and bake for 12 minutes.
Remove from oven and cut into 4 pieces. If desired, spoon some melted butter from the pan onto pancake with some maple syrup and top with a few berries.
Adapted from The Silver Palate Cookbook