Masala Chai with Coconut Whipped Cream
Jan 13, 2017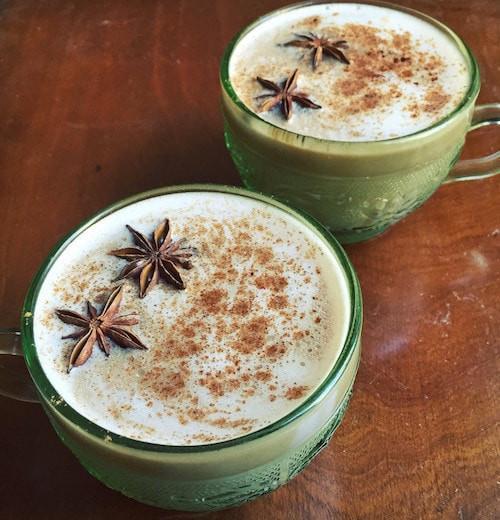 In my humble opinion, there are few drinks more delicious than a masala chai, or spiced tea. I use mostly whole spices, which I roast for a couple minutes before grinding with a mortar and pestle to heighten their flavor and release their earthy aromas. The blend of spices and black tea help
reduce inflammation, lower cholesterol, improve digestion, and fight sickness.
This recipe is made with cashew milk and topped with coconut whipped cream, making it deliciously vegan!
Servings: 2 1/2 cups chai
Ingredients:
chai:
5 cardamom pods
6 whole cloves
1 4-inch cinnamon stick
1 star anise
dash of ground nutmeg
dash of ground allspice
2 inches freshly grated or chopped ginger
1-3 squirts preferred Beverage Booster
3 1/2 cups water
3 1/2 tablespoons of loose leaf black tea or 5 tea bags
1/2 cup demerara sugar (cane sugar)
1 teaspoon vanilla extract
to serve:
1 part chai
1 part cashew milk
Directions:
In a medium saucepan over low heat, dry roast cardamom, cloves, cinnamon, and star anise for 1-2 minutes or until aromas begin releasing. Be sure to stir frequently as they are roasting. Remove from saucepan and let cool.
Once cooled, grind spices using a mortar and pestle or coffee/spice grinder.
In medium saucepan, combine the roasted spices, nutmeg, allspice, ginger, Beverage Booster, and water. Cover and let simmer for 15 minutes, stirring occasionally.
After 15 minutes, turn off heat and add tea; cover and let steep for 10 minutes. Once infused, transfer tea to another saucepan using a fine meshed sieve to filter out the spices.
Add sugar and vanilla extract to strained tea and cook uncovered (stirring occasionally) over low heat for 5-7 minutes, or until tea has thickened slightly. Remove from heat and transfer to mason jar to cool. Store in fridge up to 1 week.
To serve warm, combine 1 part chai to 2 parts cashew milk and heat on stove until warm. To serve cold, add 1 part chilled chai to 2 parts chilled cashew milk and stir. Top with coconut whipped cream.
Coconut Whipped Cream
Ingredients:
1-14oz can full fat coconut milk (Native Forest is BPA free)
1 1/2 tablespoons maple syrup
1/2 teaspoon vanilla extract
1 squirt preferred Beverage Booster
Directions:
Chill coconut milk in fridge overnight to separate liquid from cream.
The next day, chill a mixing bowl in freezer 10 minutes before whipping.
Remove can from fridge and scoop cream into chilled mixing bowl. Save the liquid for another use, such as in a smoothie.
Begin whipping the cream using a hand or stand mixer for about 20 seconds. Add maple syrup, Beverage Booster, and vanilla extract and beat for another minute or so, until it becomes creamy.
Top chai with whipped cream and store leftovers in a sealed container in fridge for 1-2 weeks.