Pineapple, Arthritis and Emotional Irritation
Aug 16, 2016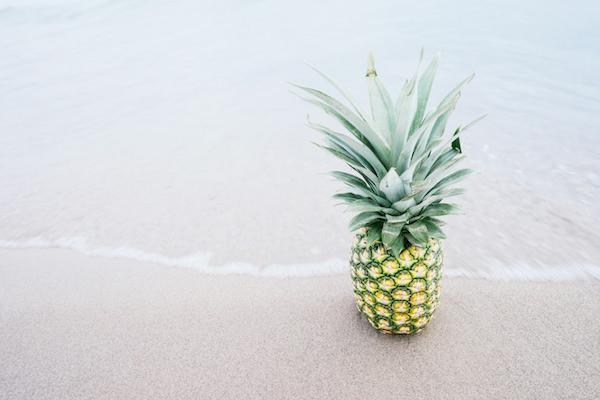 Do you get stressed? Do you like pineapple? Then you are in for an exciting treat!

Seasonal change brings with it many factors which increase stress - including allergies, changes in daylight, and temperature / humidity shifts which aggravate emotions as well as aches and pains.

Stress causes irritation for our bodies and emotions. Along with my 3 tips to reduce in the moment stress from last weeks post …you can also incorporate foods to ease inflammation in the body and also soften emotions. Pineapple is one of my favorites that can really help - with inflammation, emotional irritation, and weight loss!



Pineapple...softer edges

Though the outer skin of pineapple is anything but soft, the juicy golden sweetness of the fruit soothes the rough edges, calms things down, reduces irritation and inflammation of emotions, and helps make everything seem new and shiny again.

In fact, cultures around the world have used pineapple to reduce inflammation and indigestion. As pineapple soothes down your systems, it softens the edges of your emotions helping to reduce harshness, tension and the brittle energy of fear - and also supports the body with weight loss.

The most soothing part of pineapple comes from bromelain, an enzyme that breaks down protein and softens inflammation. According to a report published by the University of Maryland Medical Center, "bromelain may reduce swelling, bruising, healing time, and pain after surgery and physical injuries. It is often used to reduce inflammation with tendinitis, sprains, strains, and other minor muscle injuries." (1)

Preliminary research at Duke University has found that bromelain may benefit inflammation with patients who suffer from irritable bowel disease. (2)

Arthritis sufferers can also look to pineapple for some relief. Arthritis Today reports "there is some evidence that enzymes like bromelain have pain relieving and anti-inflammatory effects comparable to NSAIDs." (3)  NSAID stands for non-steroidal anti-inflammatory drugs such as aspirin, ibuprofen, and naproxen. They are commonly used for minor injuries and muscle pain, arthritic pain, menstrual cramps and headaches.

Is it any wonder then that pineapple can also can also "soften the edges" of inflammatory emotions?

As pineapple reduces inflammation, it supports the body to shed excess fluids and fat, thereby helping with weight loss. Fresh pineapple, the fresh juice, and especially the fibrous core are all high in bromelain. The core can nicely be blended into smoothies or put through a juicer.
The above excerpt and recipe below taken from Coffee, Chocolate & Confidence
—Kaliana's guide to how 70 beverages affect your moods
The below recipe is great as irritation begins to rise - whether outside or within your body!
Chill Out Virgin Piña Colada
(One - 24 ounce serving or Two - 12 ounce servings)
Soothe your spirit with this lighter version of the ultra sweet and thick drink you are used to. It's perfect to enjoy to soften the edges if you are a bit tense or stressed over any situation. Your waist line will thank you for the lighter version as well. It's perfect for kids or having friends over!
Ingredients:
1 cup (8oz) coconut milk – homemade or carton
1½ cups (12oz) pineapple - fresh & chopped
½ banana - ripe
1 teaspoon coconut extract
4 drops Kaliana
CALM
or
STRESS RELIEF
 Beverage Booster
2 handfuls ice
Optional: 1 tablespoon raw honey – only if the pineapple is not in season and fully ripe, or if you are using frozen and need to give it a little boost.
Preparation:
Place all ingredients into a blender and run on high until smooth, and serve immediately.
Notes:
1)
Use fresh pineapples because they are alive and carry the highest vital nutrients still intact. If you can't find fresh pineapple, you can substitute with 1 ½ cups of frozen pineapple. Also, if your fresh pineapple isn't juicy and sweet enough, or if you do use frozen, you may want to add a little bit of sweetener, like "you shall be provided for" raw honey – a teaspoon at a time until you like the balance of flavor.
2)
You can find all natural coconut extract in your local health food store. It is needed in this recipe because the homemade and carton versions of coconut milk can use a boost of coconut flavor since they are so much lighter than the canned version.  Coconut milk from a can is not recommended in this recipe.
Tips:
1) Piña Colada Popsicle: Put blended ingredients into popsicle molds and have an awesome treat for kids and adults too!
2) Adult Piña Colada: omit the coconut extract, and add 1 ounce of coconut rum to a serving.
(1) Retrieved May 10, 2012, from http://www.umm.edu/altmed/articles/bromelain-000289.htm
(2) Retrieved May 10, 2012 from: http://nccam.nih.gov/research/results/spotlight/070108.htm
(3) Retrieved May 12, 2012 from : http://www.arthritistoday.org/treatments/supplement-guide/supplements/bromelain.php