Tuna Salad: Reduce Mercury and Anxiety
Oct 01, 2015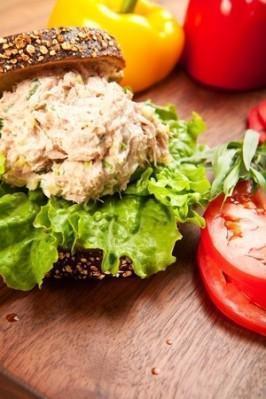 Eating healthier, emotional care foods helps save you money because you tend to become less hungry and end up with fewer cravings over time, plus it brings more happiness too! Remember, it takes 4 months for every cell in your body to replace itself. So stick with your positive emotion eating and watch for the changes that come.

I love sharing Natural Emotional Care recipes with you to help lower anxiety, stress and nervous tension. Food should naturally help you feel calmer, happier and less stressed. 

Here's my special "Tuna Salad to Lower Anxiety" recipe the kids begged for. We used this tuna salad for our kids' school lunches for years – and their friends always begged them for some. This happened so often, that we learned to always pack an extra sandwich for them to give away, lol.

My special 'emotional care' tuna salad recipe, naturally provides many nutrients that specifically lower anxiety, stress, tension, and even can help reverse depression. For instance, using the leaves of the celery increases the magnesium content which is a natural muscle relaxer as well as essential for proper heart rhythm.

Some people worry about the mercury in tuna, but this recipe contains a marvelous Asian ingredient revered for binding with heavy toxic metals like mercury – to keep your body from absorbing it. The seaweed flakes give greater depth of flavor, and are also a great source of iodine which not only gives you more sustainable energy, but supports healthy hormone production – all for a happier, more vibrant looking you.

Kaliana Tuna Salad to lower Anxiety

Ingredients
2 cans white albacore tuna (pole or troll caught)
2-3 Tbl mayonnaise (as preferred)
1/2 Tbl dill
1/2 Tbl seaweed flakes
1 rib celery w leaves chopped
1 squirt Kaliana Beverage Booster
1/2 lemon, juiced

Put all ingredients into a bowl. Stir thoroughly. Smile and serve.
Extra serving ideas: with celery, carrot sticks, or kale chips; on a bed of fresh spring greens with wedges of heirloom tomatoes; As a non-grain tuna melt - serve warm tuna salad on a bed of sautéed kale topped with white cheese.


Like Kaliana Happy Tips? Share them with your friends!
Download my easy "Key Foods To Help You Feel Happier" eBook
FREE
. This way, each time you grab something from your pantry, it encourages positive moods and emotions.
Please leave your thoughts to inspire others.
What do you like in your tuna salad? Share in the comments below.