Heart-Healing Holiday Eggnog
Sep 27, 2016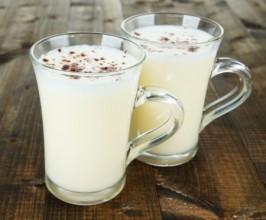 The Emotions of Eggnog... (emotional benefit: I am cared for
)
Why do we love this beverage so much? Eggnog emotionally says to your insides that you are deeply cared for. This original recipe made with wholesome eggs, fresh milk, and highly prized sugar and spices assists the mind to dream and the heart to let go of struggles. The result of using eggnog as a part of emotional care is that we feel deeply emotionally nourished by the rich decadence of eggnog, because it can provide deep sustenance to our weary bodies in the midst of cold, hectic seasons.
Eggs …(emotional care: feeling stable)
Free range eggs as a part of natural emotional care represent protection, balance and having everything you need being provided - in other words they help you feel more stable. Eggs that come from happy, free roaming hens especially, share that positive energy with you via their happier eggs versus eggs that come from chickens that have been cooped up and stressed. Hens that are allowed to forage daily on grass and bugs also typically produce eggs higher in certain vitamins and omega 3's.
Cream…(emotional care: you are cared for
)
Ahhhh, sweet, delicious cream as emotional care supports your sense of comfort and being nourished. Because mothers naturally produce this wholesome goodness for the health of their offspring, and it emotionally says "you are cared for". Whether you consume dairy from cow, goat or sheep, the cream carries the greatest benefits to your emotions and health.
Now this may be difficult to grasp as we have been programmed to think that "fat" is bad for us. Instead, understand that good fats are essential for the health of our eyes, brain, liver, heart and skin. When you enjoy cream, revel in the feeling of being cared for!
Nutmeg …(emotional care: escape)
Nutmeg has been used for centuries in cuisines of various cultures and has fabulous emotional care properties that encourage the mind to imagine and the heart to let go of suffering. No wonder it found its way into American culture as a favorite in holiday recipes such as eggnog, desserts and pumpkin dishes. The traditional medicine of Indian called Ayurveda uses nutmeg as a digestive and natural sleep aid.
For more information on the emotional benefits of over 70 beverages and over 50 recipes - order my book
Coffee, Chocolate & Confidence
today! AND...learn more about
Foods & Moods
!
Recipe: Kaliana's Caring Holiday Eggnog
(6 servings – 6 ounces each)
6 free range egg yolks
¾ cup raw sugar
1 vanilla bean
2½ cups fresh milk
2 teaspoons vanilla extract
¾ to 1 teaspoon freshly grated nutmeg
1½ cups cream
1 dropper Kaliana
JOY
or
CONFIDENCE
Beverage Booster
In a medium sized bowl, beat eggs, sugar and the scraped insides of a vanilla bean together until smooth and fluffy. Set aside. Next, in a medium sized pot slowly heat milk until milk is hot and steaming, but do not allow it to boil.
Then, slowly add a little bit of milk at time over into the eggs and whisk consistently until all the milk is added. This is called tempering; bringing the eggs up to temperature slowly so that they don't curdle.
Pour egg and milk mixture into the pot and cook over medium heat, whisking slowly, but constantly so that it doesn't stick to the bottom. The mixture will begin to thicken between 6 and 8 minutes. When you stick a spoon into the mixture and it sticks enough to coat the back of a spoon, remove the pot from the heat.
Next, add vanilla extract and nutmeg, and whisk to incorporate. For a smoother consistency, strain the eggnog through a fine mesh strainer. When cooled to room temperature, stir in the cream, add supplement, cover and chill.
Notes:
1) You can adjust the sweetness or spice to your liking. Add more or less depending on your own taste. Also, if it's too thick for your liking once chilled, add another half cup of whole milk or cream to thin it out a bit.
2) There is significant yummy difference when using whole vanilla bean. However, if you don't have a vanilla bean, you can add an extra teaspoon or more of vanilla extract instead.
Tips:
1) For a festive adult beverage and additionally effective nightcap, add a shot of spiced rum or bourbon to your drink. If you are planning on adding alcohol to your eggnog, then don't add any additional milk to thin it out.
2) If the eggs have curdled a bit on you, and the mixture isn't smooth enough (even after straining), try blending it in a blender after it has cooled to room temperature, and then add the cream.
3) Afterward, you can leave the vanilla bean on a window sill for a few days till completely dry, and then add it to your sugar jar for vanilla infused sugar.
Learn more
about Kaliana Emotional Care® 
Beverage Boosters
 - try some today!