Quinoa Patties with Chipotle Cashew Sauce
Feb 03, 2017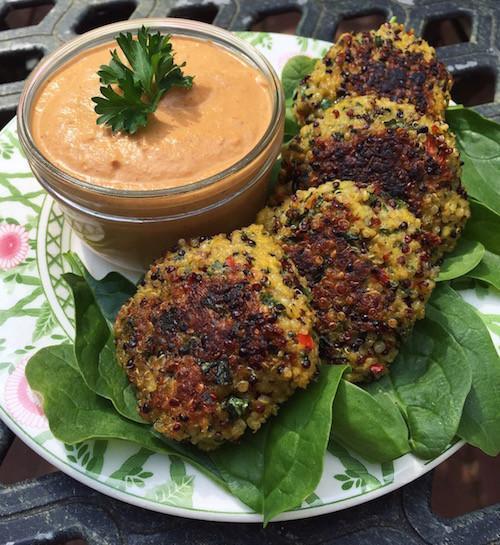 These delicious little spinach and red pepper quinoa patties are paired with a kickin' chipotle sauce that is made using soaked cashews. Soaking makes nuts easier to digest and nutrients more easily absorbed, which in the case of cashews is copper, phosphorus, manganese, and magnesium. Also, the vitamin C in the red bell pepper helps with the iron absorption from the spinach.

You can easily make this recipe gluten-free by using gluten-free bread crumbs. These patties are tasty cold or warm and are easy to pack for lunch! Stuff a pita with the patties and sauce or serve on a salad.

Tip: Using a food processor to finely chop the red bell pepper, spinach, and parsley makes them the perfect size.

Servings: 16 patties
Quinoa Patties
Ingredients:
2 1/2 cups cooked quinoa, at room temp.
4 large eggs, beaten
1/2 teaspoon salt
3 cloves garlic, pressed
2 cups spinach, finely chopped
1/2 red bell pepper, finely chopped
1/4 cup parsley, destemmed & finely chopped
1-3 squirts Stress Relief Beverage Booster
1 cup panko bread crumbs
1 tablespoon avocado oil (or other high heat oil)
Directions:
Combine quinoa, eggs, and salt in a medium bowl. Stir in garlic, spinach, bell pepper, parsley, Beverage Booster. Stir in bread crumbs and let sit a few minutes to absorb moisture. Form patties, each about 2 inches long and 3/4 inches thick. If needed, can add extra bread crumbs to firm up the mixture, or water to moisten.
Heat oil in large skillet (preferably cast-iron) over medium-low heat, add 6 patties with room in between and cover. Cook for 7 minutes or until bottom is browned, then using a spatula, flip each patty and cook covered for an additional 5 minutes. Remove from skillet and let cool on large plate while you cook remaining patties.
Serve warm with sauce. Store leftovers in air-tight container for up to 1 week.
Chipotle Cashew Sauce
Ingredients:
1 cup raw cashews
1  2.5-inch dried chipotle pepper (can also use 1/2 to 1 whole chipotle pepper in adobo sauce, depending on how spicy you want it)
3 1/2 tablespoons EVOO
2 1/2 cups water, divided
3 1/4 teaspoons lemon juice
1/4 red bell pepper
2 cloves garlic, pressed
1 teaspoon raw honey
2 3/4 teaspoon salt, divided
1/8 teaspoon cumin
1/8 teaspoon chili powder
dash paprika
1-3 squirts Stress Relief Beverage Booster
Directions:
Add cashews and 1/2 tablespoon salt to bowl or mason jar, add 2 cups warm water. Cover and let sit on counter for 2 to 6 hours. After allotted time, drain and rinse soaked cashews.
Using a mortar and pestle, grind dried chipotle pepper (without stem) until it is broken apart. If using a chipotle pepper in adobo sauce, either add the pepper to the food processor as is, or (to reduce the spiciness) rinse under water to remove seeds or use a knife to scrape the seeds off. Wash hands immediately.
In a food processor, combine EVOO with ground chipotle (including seeds). Add soaked cashews and blend for about 45 seconds. Add 1/2 cup water, lemon juice, and blend until smooth. Add bell pepper, garlic, honey, 1 1/4 tsp salt, cumin, chili powder, paprika, and beverage booster and blend until smooth and creamy.
Serve with patties. Store leftovers in air-tight container in refrigerator for  3-4 days.