Chickpea Brussels Sprouts Buddha Bowl
Mar 15, 2019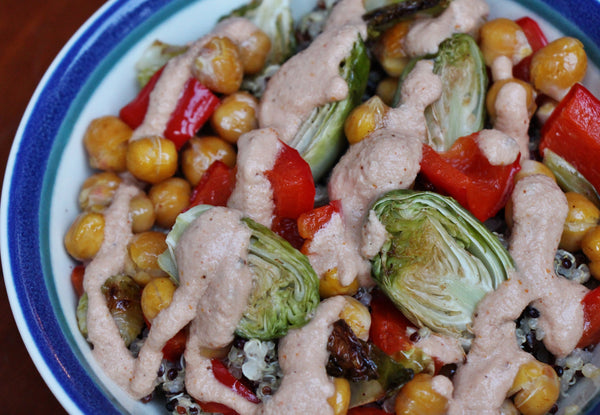 Buddha Bowls, also referred to as Glory Bowls, have quickly become my favorite way to eat. They are easy to make and packed with everything you need for a balanced meal—whole grain complex carb, greens, roasted veggies, and beans.
But the absolute BEST part is truly the mouthwatering, sun-dried tomato cashew sauce to top everything off. Enjoy!
Servings: 4
Ingredients:
For the bowl:
1 pound Brussels sprouts
1-15oz can chickpeas, drained and rinsed
1 red bell pepper, seeds and ribs removed, chopped
1 cup uncooked quinoa, rinsed
2 cups water
2 tablespoons avocado oil
salt to taste
For the sauce:
1 cup raw cashews, soaked
10 drops Beverage Booster, divided
1/2 tablespoon salt
3/4 cup sun-dried tomatoes in oil
2 tablespoons EVOO
1 1/2 cups water
Directions:
Add cashews, 1/2 tablespoon salt, and 5 drops Beverage Booster to bowl or mason jar, cover with warm water. Cover and let sit on counter for 2 to 6 hours. After allotted time, drain and rinse soaked cashews.
Preheat oven to 400ºF and line baking sheet with parchment paper. Cut off stem ends of Brussels sprouts, remove discolored leaves, and halve lengthwise.
Place Brussels sprouts, chickpeas, and red bell pepper on baking sheet. Season with oil and salt, stirring to combine. Roast for 25-30 minutes, stirring halfway through.
Meanwhile, cook quinoa. On stove, place 1 cup quinoa and 2 cups water in a saucepan and bring to a boil. Reduce to simmer, cover and cook until all water is absorbed; about 15 minutes.
Add cashews, sun-dried tomatoes, oil, and 5 drops Beverage Booster to a food processor. Blend for about a minute, then add water. Blend until smooth, and salt to taste.
Assemble bowls by placing quinoa on bottom topped with veggie mixture and lots of sauce.