Each kit contains 4 easy-to-use products for taking charge of your emotions—quickly and deeply.
Deep-acting emotional support*
Benefits immune, skin & energy*
Kaliana Emotional Care® Kits combine 4 applications for a more holistic approach to help you get to the root of deeper emotions, and give you the power to turn them around.
WATCH THE VIDEO TO LEARN MORE.
---
What Can 

Clarity 

Do For You?

Promote: intelligence, creativity, problem-solving*

Release: worry, tension, mental fatigue*

PURE & NATURAL INGREDIENTS HAND-BLENDED FOR YOUR EMOTIONAL NEEDS.

Clarity ingredients have been hand-selected to promote clear thinking and problem solving, while stabilizing your emotions and nervous system. Clarity Vibraceutical™ 157 plus 10 key essential oils have been blended to work in conjunction with one another for greatest emotional benefit—including eucalyptus, lemongrass, vanilla absolute, and rose absolute.

CLICK HERE TO READ MORE ABOUT CLARITY'S PURE INGREDIENTS
How does it work?
Hand-crafted, specialty blends of essential oils and flower essences.
4 Layers of support to help ease stress, anxiety, and sadness.
Try it yourself and tell us what you think.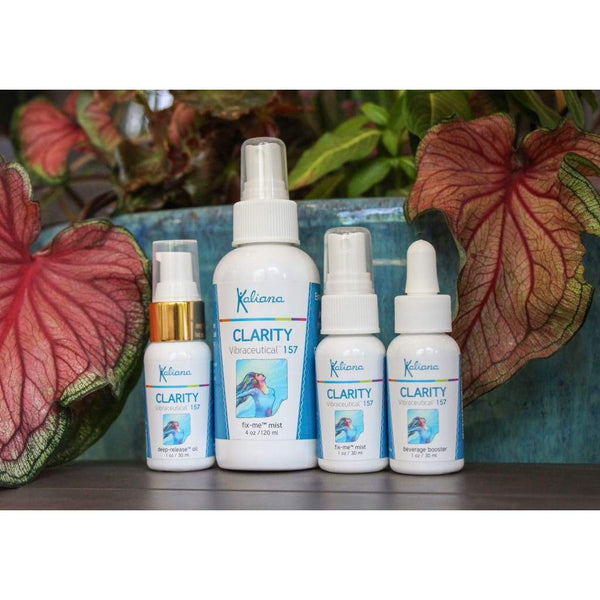 Regular price
$119.88
(A 28% SAVINGS)
100% NO-RISK MONEY BACK GUARANTEE
Frequently Asked Questions
---