5 Emotional Benefits of Clove Essential Oil: Patience & Protection
Jul 16, 2019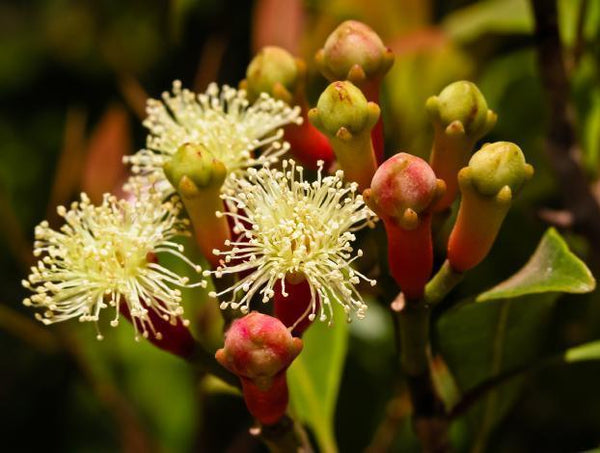 Clove essential oil is found in the following Kaliana Formulas: Health. Click here to learn why using blends are more effective than using individual essential oils.
--------------------------------
If you've ever opened a bottle of clove spice in the kitchen, then you know that it smells absolutely divine. But it offers more than just a stimulating aroma—clove is one of the most valuable spices that has been used for centuries. Its extract is packed with antioxidants that can do wonders for the body. 
Native to Indonesia, clove has been used extensively in ayurveda and traditional Chinese medicine for at least 4,000 years. Legend has it that a French explorer and botanist stole seedlings of clove in 1770 and took them back to France and Zanzibar. This led the way for clove to gain recognition throughout the world. 
Today, clove is a must-have in the kitchen to be used in different cuisines, from marinades to desserts. Modern science has also found a way for the body to better absorb its therapeutic potential. The dried flower buds of the clove tree are steam distilled to extract a powerful elixir or clove oil. 
Note: Clove is one of the most potent of all essential oils and MUST be used sparingly and very highly diluted. Work very carefully and conscientiously with this oil if using the pure essential oil, or even if touching clove buds.
5 Emotional Benefits of Clove Essential Oil
Kaliana's Emotional Read:
In addition to benefiting the body against fungus, mold, bacteria, parasites, and illnesses, clove oil can help in times of emotional distress. It has a way of cutting through hysteria, deep melancholy, and getting to the root of issues. Clove can lift you up when you're in a deep level of frustration, assist with clarity and give a sense of courage to face another day. 
When you want to assist other essential oils or remedies to work deeper in the body, such as to root out issues or gain deeper benefits, add just 1 drop of clove to a 1-4oz blend to gain deeper healing penetration. Clove assists in breaking apart old patterns of behavior, mental thoughts or blockages, and shifting negative emotions or repetitive tendencies, all which also contribute in deep and insidious ways to health concerns.
1) Patience
Did you know, it takes 20 years for a clove tree to produce flower buds - which are the dried cloves you have in your kitchen? This reflects the patience and persistence this essential oil embodies. Consider this, do you currently have the patience to wait 20 years for anything?
 
Clove essential oil has been shown to lower anxiety to help you remain relaxed, patient, and trusting in the bigger timing of life. This is difficult for most of us. We want immediate solutions. We desire life, success and great relationships now. Patience is not a virtue that most of us possess - especially when we desire something deeply.
2) Persistence
Clove essential oil is perfect to use when you need help going the distance of a long-term challenge. Just as the oil can make its way to the deep core of a ham, it supports you emotionally to not give up and find the path through to your deepest parts. This dedicated oil supports your endurance to keep working your way forward step-by-step.


3) Protection Against Negativity & Toxic People
Its deeply penetrating "can't hide from me" talent makes clove essential oil a powerhouse when it comes to seeking out and destroying powerful bacteria such as staph, robust viruses, fungi, mold, yeast and parasites. For centuries, cloves were used in cooking ham because they were powerful enough to kill notorious parasites buried deep within the pork.

In this same way, clove essential oil helps to protect you. Use it to help prevent toxic germs or people from attaching to you and getting under your skin (the way a parasite or negativity does). It is effective at helping to wipe out hidden, dark or toxic energy from the space around you: on surfaces, in the air or in your environment. Clove has been shown effective in inhibiting tumor growth - which is the epitome of combating the growth of negativity within you.
4) Cut Through Illusion
Clove's ability to cut through negativity and penetrate deeply helps mentally and emotionally to cut through brain fog and get to the root of an issue. When you feel you need assistance cutting through illusions or "spin talk" by those who desire to manipulate, clove essential oil is your friend.


5) Emotional Buffer & Nerve Steadying
Because of its natural numbing ability, clove essential oil acts as a natural emotional buffer - a kind of a numbing tonic if you will. You know how someone can "get on your last nerve"? Clove is wonderful at soothing nerve irritation, tension and also buffering sensory input. That combination assists both your patience and endurance with difficult situations or people.
Clove's ability to ease the impact of heated situations and soothe raw edges of emotion helps you feel more steady and clear headed when focusing or making decisions. In addition, clove essential oil can help stabilize blood sugar, which has a direct impact on moods and how steady you feel.
There are times when feeling numb can be a good thing, such as when we need to slow the onslaught of intense emotions such as shock, trauma, sudden bad news or grief. The same way clove has been used for centuries to assist in numbing the trauma of archaic dental procedures (like pulling bad teeth out with pliers), clove essential oil assists with softening intense feelings and stabilizing emotional nerves.


6 Health Benefits of Clove Essential Oil
It's no secret that clove oil has become a popular home remedy for various ailments. It is known to have warming effects on the body that allows muscles to loosen up. Here's why it would be a great idea to have it in your medicine cabinet today:
1) Good for the teeth
Clove oil is a common ingredient in toothpastes, mouthwashes, and gum creams because of its microbicide properties. In a 2012 study, clove oil was used as an antiseptic in oral infections.
It was then found that clove oil inhibits Gram-negative and Gram-positive bacteria as well as yeast. Its strong aroma can help you fight bad breath.
2) Natural pain reliever
One of clove's traditional uses has been to relieve pain. Its analgesic effect is most effective in toothaches. It can also be used to manage headaches and nasty ear aches. The flavonoids in clove oil also have anti-inflammatory agents that can help manage pain in muscles and joints.
3) Skin health
Clove oil is used in many cosmetic products because of its power to manage acne and improve the appearance of the skin. It can help you fight the early signs of aging too, such as wrinkles and sagging skin. It's all thanks to clove oil's antibacterial, antioxidant, and stimulating activities. It can be added to soaps, lotions, creams, and body oils.
4) Fungal infections
It has been discovered in a study that clove oil has powerful antifungal activity and has a fast-killing effect on certain yeast cells. It can also help with Candida overgrowth, athlete's foot, ringworm, and bad breath. What's more, its eugenol content can help the body fight diarrhea-inducing parasites in the intestines.
5) Stronger immune function
Clove oil is one of the richest sources of antioxidants so it can easily give the immune system a boost. The antioxidants work by eliminating free radicals that harm healthy cells in the body. With a stronger immune system, you will be protected from disease. It can also lower your risk of infections and heart problems.
6) Effective insect repellent
Clove oil is a common ingredient found in many spray repellents in the market. It has a lot to do with its strong and spicy aroma. Just a few drops in your diffuser will keep the bugs and mosquitoes away. A 2016 study also found that clove oil can work as a body lice repellent. Body louse is a vector of typhus and relapsing fever.
Recognizing the power of clove and combining it with 9 other powerful essential oil health facilitators, is why Kaliana Health Formula is unusually effective.
How To Use Clove Essential Oil
Clove oil has many lovely counterparts. It blends well with cajeput, myrtle, bay laurel, pine needle, rosemary, eucalyptus, cypress, jasmine absolute, juniper berry, cinnamon, lavender, lemon, grapefruit, ginger, orange, geranium and rose.
Although clove is powerful on its own, it is often more effective when added to a blend because it acts somewhat as a catalyst in enhancing the ability of the other essential oils to cut through blockages and work deeper.



The most common way of using clove is through diffusion. You just add 2 to 4 drops to your diffuser and the fragrance will fill the room along with its healing molecules. Another way to dispense the scent throughout the room is to add a few drops to a spray water bottle, and shake well each time before using.
Clove oil can also be added to warm baths to relieve stress. Or, mixed into liquid soaps or massage oils for a rejuvenating effect. When it comes to massage, remember to use clove sparingly. If it's truly pure, even 2 drops can be too strong when diluted in 3 oz of an organic carrier oil such as organic olive, jojoba, sesame, raw coconut, or sweet almond (avoid argan due to concerns of over harvesting).
If you want to use clove oil to promote oral health, you could mix 1 drop in a cup of water for a homemade mouthwash.
Your Powerhouse Essential Oil
More than just a popular spice, clove offers therapeutic benefits that can help keep you physically and emotionally healthy. It is a powerhouse essential oil that definitely deserves a spot in your collection. If you want to learn more about this and other wonderful essential oils, join our Facebook community today!
What are your favorite ways to use clove? Share in the comments below :)
About the Author: Kaliana has been studying natural healing since 1976. She developed her own line of aromatherapy products for emotions in 1995. She is a gifted intuitive, Master Energy Healer, author of 4 books, professional speaker, and offers private consulting for spiritual women and moms.
Kaliana is a certified Phyto-Aromatologist, graduated from Queens University as a Presidential Scholar, sat on the Board for Eating Disorders at The University of North Carolina, Chapel Hill, holds a 4-year Advanced Certification from the Mastery of the Heart School, and teaches certified courses for Continuing Education Hours by NCBTMB.