6 Emotional Benefits of Benzoin and Supporting the Lungs
Mar 14, 2019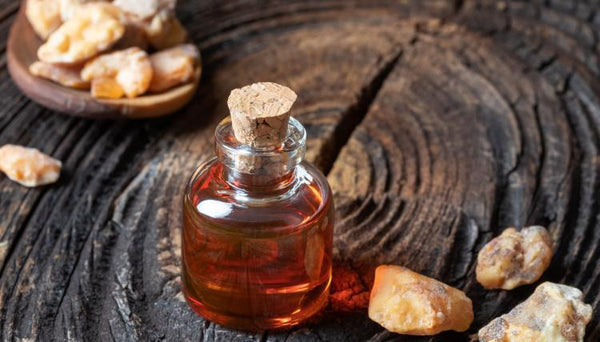 Benzoin essential oil is found in the following Kaliana Formulas: Calm, Clarity, Confidence, Recovery. Click Here to learn why using blends are more effective than using individual essential oils.
---------------------------
Benzoin is cherished throughout history because of its rich and diverse scent. It has been a common addition to perfumes, incense, and potpourri from ancient times up to the modern age.
It was also used in ancient and religious ceremonies as people believed the powerful enlightening aroma - more earthy than vanilla, and rich like sandalwood - could drive away wicked spirits.
Records have shown that benzoin resin was such a prized ingredient that it was the preferred gift of the Sultan of Egypt to the Queen of Cyprus and Doge of Venice. When the resin made its way to England, it was ground into powder and mixed in perfumes worn by Queen Elizabeth I.


How Benzoin Resin Is Collected
Benzoin resin is obtained from the bark of the 'Styrax tonkinensis' tree that can be found in Laos. More than an ingredient, benzoin represents a culture. The time and investment required to cultivate benzoin oil is huge. What makes it more special is that a tree can only be tapped after it has turned seven years old!
The method of collection is no easy feat as it is physically demanding and requires skilled technique. Laos farmers have to climb up to a height of 10 meters just to collect the precious resin. They use homemade rope ladders made from rattan. Once the resin has hardened, a solvent, such as alcohol, is added to extract the essential oil.


6 Emotional Benefits of Benzoin Oil
Most people don't know that aside from its pleasant aroma, benzoin essential oil can do so much to heal the mind and body.
Below are the therapeutic benefits it can offer:


1. Increased Confidence due to Healthier Skin
Benzoin oil is a great addition to any skincare routine. It has astringent properties that help reduce the appearance of pores, fine lines, and wrinkles. It can tighten and lift the skin to make it look younger. According to studies, it also has soothing and healing abilities that improve skin conditions such as dermatitis, eczema, and pruritus.


2. Improved Self-Expression via Less Coughing
Being a warm oil in nature, combined with its disinfectant properties, benzoin acts as an effective expectorant. It is used in balms and rubs to help decrease the amount of phlegm along the respiratory tract and relieves coughing. It also promotes relaxation and induces sleep in people suffering from congestion.


3. Greater Personal Freedom due to Pain Management
Those who suffer from the pains related to arthritis can find relief in benzoin oil. It contains powerful anti-inflammatory and anti-rheumatic components that are easily absorbed through the skin. It can be massaged directly onto the affected joints or stiff muscles, or added to your bath water to ease the aches and pains.


4. Strengthens Boundaries by Preventing Infection
Benzoin oil contains benzoic acid and benzaldehydes which have potent antibacterial and antiviral properties. This makes it a good treatment option for minor wounds and cuts. It helps cleanse the affected site to get rid of microbes that would cause infection. For topical application, it has to be diluted with a suitable carrier oil.


5. Improves Social Comfort as It Removes Bad Odor
Benzoin is one of the few oils that can act as a natural lasting deodorant. It can eliminate odor-causing bacteria while adding its own distinctive scent which is more of a vanilla type. This function comes from the presence of benzene ring derivatives in this oil. It is often anchored with lemongrass, cajeput, cypress, and rose geranium in deodorizing blends.


6. Reduction of Anxiety and Stress for Emotional Wellbeing
Benzoin oil is commonly used in yoga or massage therapy because of its mood enhancing abilities. Its fragrance can put the mind at ease and in turn help the body relax. Inhaling benzoin oil through diffusion can also eliminate feelings of anxiety and stress. When used at bedtime, it can help you get a good night's rest.

Kaliana's Emotional Read:
As mentioned above, benzoin oil is very mood enhancing and effective at putting the mind at ease, to reduce stress and feelings of anxiety. Benzoin acts deeply in the lungs, which is the organ where we store sadness and restricts our ability to feel joy according to Chinese medicine.
Sadness comes from the loss of anything we care about - not making a sports team or club, moving away from a friend or home we love, losing a job, a loved one, etc. Often we don't acknowledge these types of losses, and just keep ploughing forward in our lives. But the sadness gets stuffed into the lung tissue if we ignore it.
Shock and trauma are the emotions that we feel when someone we love is diagnosed with a serious illness, injured in an accident, or hurt in any way. These emotions are something most of us have no idea how to heal. We suppress shock and trauma because we need to feel strong.
Although emotionally deep, sadness, shock and trauma are all feelings that the heart can heal - with time and the proper support. However, when ignored, these emotions tend to show up as issues in the lungs, from anything such as allergies, to coughs, bronchitis and pneumonia.
This is why benzoin can be so effective for the lungs and deep emotional pain. It smells divine, like warm vanilla, yet is highly beneficial at relieving coughs, infections, and deep emotional traumas.
This is also why you will find it in 4 of my 7 Emotional Care Formulas...Calm, Clarity, Confidence and Recovery. Each of these specific emotional challenges require deep emotional release and therefore support for the lungs.
You might wonder why I do not include benzoin in my Comfort formula for the heart and assisting grief. There are times when the heart needs focused support. Broken-heart syndrome is a real thing - the heart actually changes shape and can be at significant risk for a heart attack. When we need to support the heart, Comfort is blended to do just that - to help you stabilize and know that you can make it through. That's why Comfort specifically uses essential oils, flower essences, and energy nutrients that support the heart.
I want to point out as well, my Formulas are all blended to work together and assist the others - the same way different friends offer you different types of support. My variety of Formulas enables you to customize the emotional support you or your family needs.


Ways to Use Benzoin Essential Oil
Benzoin oil can be used alone or combined with other oils. It blends well with frankincense, sandalwood, rose, and bergamot.
Diffuse benzoin when using it for anxiety or insomnia. To clear congestion, add a few drops to your hands and breathe in the vapors.
Dilute when used for massage: several drops per tablespoon of organic carrier oils such as jojoba or sesame (rapid penetration), olive or rosehip (rich in beneficial polyphenols and anthocyanins), and coconut or almond (affordability).
About the Author: Kaliana has been studying natural healing since 1976. She developed her own line of aromatherapy products in 1995, is a gifted intuitive, Master Energy Healer, author of 4 books, professional speaker, and offers private consulting for spiritual women and moms.
Kaliana is a certified Phyto-Aromatologist, graduated from Queens University as a Presidential Scholar, sat on the Board for Eating Disorders at The University of North Carolina, Chapel Hill, holds a 4-year Advanced Certification from the Mastery of the Heart School, and teaches certified courses for Continuing Education Hours by NCBTMB.