Jasmine Absolute Essential Oil: Sleep, Hormones & Happiness
Jan 18, 2017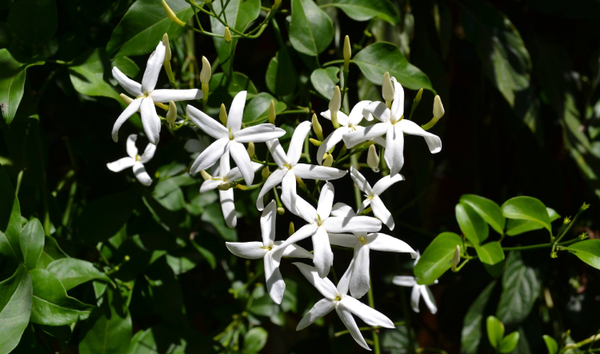 Jasmine Absolute essential oil is found in the following Kaliana Formulas: Calm, Comfort, Health, Joy. Click here to learn why using blends are more effective than using individual essential oils.

---------------------------
Have you tried diffusing or smelling Jasmine for anxiety? It has a unique emotional ability to relax and uplift. It is well-known for its distinct exotic aroma that is floral, musky, sweet and sensual all at once.
Jasmine oil hails from Asia and the Himalayas. It has been revered for centuries around the world because of the wide range of benefits it can offer.
The name "jasmine" is derived from the from the Arabic word "yāsamīn" and Persian word "yāsamīn" meaning "gift from God."
The oil is extracted from the flowers of Jasmine plant, which is considered to be very sacred. In the Hindu religion, these flowers have been offered for the god Vishnu and Kama. According to folklore, Jasmine can enhance the magic of nighttime especially for newlyweds. In Pakistan, the flowers are doled out to pilgrims to symbolize luck and gratitude.
Because of its fragrance, it has been widely used in the perfume industry and added to cosmetic products like lotions and soaps.
History of Jasmine Essential Oil
The use of Jasmine can be traced back to ancient China, Persia, and Egypt. It was a favorite among royalties and traded along the Silk Road. It was already an important part of perfumery in the times of Cleopatra and Louis XVI.
Its aphrodisiac properties may have been one of the reasons why there is a high demand of jasmine throughout history.
Jasmine's nickname is "queen of the night" because it reveals its greatest blooms, beauty and strongest scent at dark. But more than its aroma, Jasmine was also used in healing. The flowers were placed in sick rooms to help clear pollutants in the air. Ancient Egyptians used the plant's extract to cure nervous disorders, headaches, and promote good sleep.
Many emotions can come to the forefront especially in the quiet of night; jasmine has a special talent for soothing, stabilizing and balancing those emotions. Because of its power at night, the oil has also been used for centuries to get the libido stimulated by its seductive and luscious scent, which naturally increases one's sensuality at dark.
How Jasmine Oil Is Extracted
Jasmine oil is quite expensive because of the sophisticated process of extraction. The delicate flowers are handpicked and rushed to processing to retain as much valuable essence as possible. Over 8,000 flowers are required to produce just 1 ml of essential oil (average cost $55 per 5 ml bottle).
Steam distillation can't be applied because high heat can cause the delicate petals to deteriorate. As a result, all the fragrance is lost. The method currently used to extract jasmine oil is solvent extraction. Flowers are immersed in a drum of solvent to pull fragrance molecules from the petals and produce the essential oil.
5 Emotional Benefits of Jasmine Essential Oil
Jasmine may be most popular for its exotic scent, but its real power lies in its therapeutic benefits:


1. Emotional Support and Stabilized Moods
European health programs highly value jasmine for helping to stabilize moods by working on the nervous system.
It is considered both yin and yang - this means that wherever you may be weak, it can assist in creating harmony and balance by stimulating or sedating both your body and emotions. It helps lift emotions associated with anxiety & nervous tension.
In a 2010 study, it was found that the use of jasmine oil in aromatherapy massage resulted in relief of depression and uplifting moods in humans. At the emotional level, subjects in the clinical trial rated themselves as more alert and more vigorous after the treatment.
It was also reported that jasmine stimulates beta brain waves (brain alertness & thinking), as well as moods and nervous system. One test report showed "exposure to jasmine oil increased positive emotions including feelings of well being, active, fresh and romantic." It goes on to say, "negative emotions such as feeling drowsy were significantly reduced."
2. Happier Balance Hormones and Reproductive Health
Jasmine oil has multiple benefits for the reproductive system. It can offer quick relief from severe menstrual cramps and backache. Its euphoric scent can help restore your confidence so that you feel more sensual.
For those going into labor, the aroma will facilitate childbirth by giving you the strength to endure the pain. It also promotes natural balance of hormones to improve PMS, mood swings, and hot flashes.
3. Mental Health and Restful Quality of Sleep
Research at Wheeling Jesuit University by Dr. Bryan Raudenbush, assistant professor of psychology, shows dispensing jasmine odor into a room where participants were sleeping "led to greater sleep efficiency and reduced sleep movement." The research showed greater quality of sleep even though there wasn't more quantity of sleep.

Participants who breathed jasmine in the air "rated their level of anxiety and vigor lower, and performed cognitive tests more rapidly." In addition, "level of alertness in the jasmine odor condition was greater during the afternoon hours, thus helping maintain students' focus on academic work throughout the day."
4. Improve Confidence via More Polished Skin Appearance
Jasmine can be blended with other essential oils and be included in beauty and healthy skin regimens. Its benefits include helping:
dry, aging skin

eczema and dermatitis (inflammation of the skin)

hydration to increase smoothness and luminosity

cicatrisant or "skin-healer"

scars and stretch marks after childbirth

cell regenerative
5. Increase Libido
Just like what you've experienced for yourself, jasmine essential oil smells fantastic. Its aroma is known to increase libido and get you in the mood for some romantic action.
In fact, it is an ingredient found in a number of sensuously scented perfumes. In India, jasmine oil is considered sacred in the Hindu religion.
According to folklore, the god of erotic love Kama would first dip the tip of his arrow into the oil and then shoot his target.
How to Use Jasmine Oil
Jasmine essential oil is great for an aromatherapy massage. It not only balances the emotions but also energizes the body. Combine it with a carrier oil and lightly massage into your skin. It can also be added to baths to promote relaxation or awaken one's sensuality. Mix it into your body scrub to enhance exfoliation and moisturization.
The fragrance of Jasmine evokes positivity and confidence, and another way to enjoy it is through diffusion or using a mist.
Since jasmine is on the pricier side of oils, consider using a blend. Not only is it more cost efficient, but there are more health and emotional benefits to using blends over individual essential oils. Give yourself all the beautiful empowerment of Jasmine essential oil in Kaliana Calm, Comfort, Health, and Joy Formulas.
About the Author: Kaliana has been studying natural healing since 1976. She developed her own line of aromatherapy products in 1995, is a gifted intuitive, Master Energy Healer, author of 4 books, professional speaker, and offers private consulting for spiritual women and moms.
Kaliana is a certified Phyto-Aromatologist, graduated from Queens University as a Presidential Scholar, sat on the Board for Eating Disorders at The University of North Carolina, Chapel Hill, holds a 4-year Advanced Certification from the Mastery of the Heart School, and teaches certified courses for Continuing Education Hours by NCBTMB.